Support for Pocket PCs
Last update - 4/28/2014
If you wish to use a Pocket PC, running Windows CE or Windows Mobile Software, with the MSR System you may be able to do so. CROPSCAN, Inc. MSR Software, version 1.28 or earlier, will run under a PocketDOS Emulator (www.pocketdos.com) on a compatible Pocket PC or PDA (see www.pocketdos.com/requirements.htm for compatibility requirements). That means you may operate the DLC and MSR System using your Pocket PC or handheld PDA in place of the CT100 Hand Terminal. Additionally, you may retrieve MSR data from the DLC to the Pocket PC and POSTPROC the retrieved MSR data file to a reflectance file in the Pocket PC or you may later transfer the MSR data file from the Pocket PC to your laptop or desktop PC and POSTPROC it there, where there may be more processing speed.
The PocketDOS Emulator is available at www.pocketdos.com. You may download a demo version from that website (CROPSCAN, Inc. does not distribute PocketDOS). Installation instructions, specifications, frequently asked questions, requirements, etc. are available at the PocketDOS website. If you install it and the CROPSCAN, Inc. MSR Software and find it to work satisfactorily, you may register and purchase an unlock code from the PocketDOS website to unlock additional features of the PocketDOS and eliminate the periodic registration notice pop-ups (see below) that occur during the demo version use.
NOTES:

While a Dell Axim Pocket PC is mentioned and pictured below, CROPSCAN, Inc. does not endorses it over any other PocketPC or PDA manufacturer. We just happened to have one on hand to check our version 1.28 MSR Software, under the PocketDOS Emulator.

It is not our plan to test our MSR Software operation on the PocketDOS Emulator nor PDA-to-DLC serial connection on each and every PDA on the market. It will be left to you to determine if the PDA you have or are interested in will meet the requirements for PocketDOS.
---
General Steps:
Go to www.pocketdos.com and follow instructions for download and installation to your Pocket PC or Handheld device.

Contact CROPSCAN, Inc. to request an MSR for PocketDOS install file You will then be given a weblink for download and additional instruction. This will install the PDA mobile version of the MSR programs and a few other support files to the MSRm folder on your desktop or laptop computer.

Transfer all of the files from the MSRm folder on your desktop or laptop PC to the Built-In-Storage folder on the Pocket PC (that is the virtual C: drive folder set up by the PocketDOS program during its installation).

Connect the Pocket PC to the DLC using an appropriate serial cable. (Note: Wireless Bluetooth connection is also possible between the PocketPC and DLC. See Bluetooth Support.)

In this case, for the Dell AXIM, a special cable adapter is required.
Other Pocket PCs may not require one.


Dell Axim Serial Sync Cable to DLC RS232 Adapter Cable (gray cable shown above) Wiring:

      Custom wired cable and connectors (4 conductor cable to a Male
      DB9 on each end). Color: Gray

                    DLC                       AXIM Serial Sync
        DLC         DB9                       DB9
    Description     Pin     Gray Cable        Pin  Description
------------------- --- --------------------- --- -------------------
     Ring Indicator  1     No Connection       1  N/C
      Transmit Data  2  ......Black .........  3  Receive data
       Receive Data  3  ...... Red ..........  2  Transmit data
Data Terminal Ready  4     No Connection       6  Data Set Ready
                GND  5  ......Green .........  5  Logic Ground
      Clear To Send  6     No Connection       9  N/C
                N/C  7     No Connection       7  N/C
                N/C  8     No Connection       8  N/C
               +12V  9  ../\/\/\...White...... 4  Data Terminal Ready?
                          10 Kohm 
                          resistor



Start PocketDOS on your Pocket PC. Something similar to the following should appear:

If you are running PocketDOS in Demo mode,
the following will occassionally appear:

Type msr at the DOS prompt and tap Enter. The CROPSCAN MULTISPECTRAL RADIOMETER SYSTEM MENU should appear:

Tap the Enter key to start the TERMINAL program and tap Enter at the COM port prompt.


Type M and press Enter for the MSR Main Menu to appear.
You may operate the MSR System as was normally done with the CT100 Hand Terminal.

You may RETRIEVE MSR data to files in the Pocket PC by selecting the RETRIEVE program from the CROPSCAN MULTISPECTRAL RADIOMETER SYSTEM MENU. The following should appear:

The RETREIVE program should function on the Pocket PC as it does on a laptop or desktop PC. Be sure to give the filename an extension of '.MV'.

After retrieval of the MSR data to a file on the Pocket PC, the .MV file may then be transferred to a laptop or desktop PC for processing into a .RFL (reflectance) file by the POSTPROC program.
---
Other Pictures:
Dell AXIM, serial cable, and DLC adapter: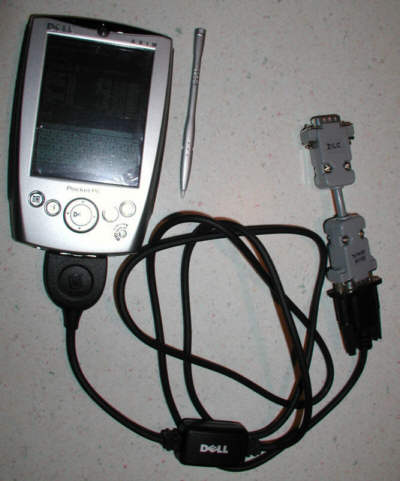 Dell AXIM connector port: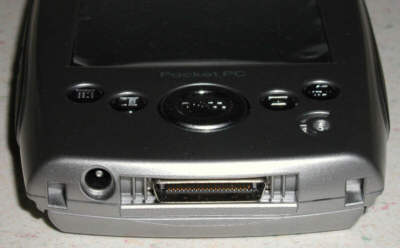 ---

CROPSCAN, Inc. Home Page

---
CROPSCAN, Inc.
1932 Viola Heights Lane NE
Rochester, MN 55906 USA
Phone: (507)285-9230
Email: Cropscan@compuserve.com
URL: http://www.cropscan.com


©2003-2017 CROPSCAN, Inc.
all rights reserved