CROPSCAN, Inc.
FILTER BANDS WHICH CAN BE USED IN THE MSR16R (up to 16 bands maximum)
Last update - 1/1/2015
---
Filters used in the MSR5 and MSR87 are also shown and can be used in the MSR16R.
CWL - Center WaveLength (nm), BW - BandWidth (nm)
The following parts are NOT customer installable. If you are ordering these for addition or replacement of bands in an MSR16R radiometer you already have, you will have to return the radiometer to CROPSCAN, Inc. for the addition or replacement. Adding or replacing sensor bands involves various other parts, in addition to the filters, which may have to be added or changed in the radiometer. In addition to the added or replaced parts, the radiometer amplifier gains will need adjustment and various calibration processes (cosine response, temperature sensitivity and reflectance) must be completed in our specialized chamber and fixtures.
Refer to the solar spectral graph below. Bands very near the water absorption bands of the spectrum may not give good results in cloudy conditions because of the significant absoprtion of those wavelengths by the clouds. Bands outside the water absorption bands will give good radiometer results in lightly cloudy conditions down to about 300 watts per square meter of total solar irradiance.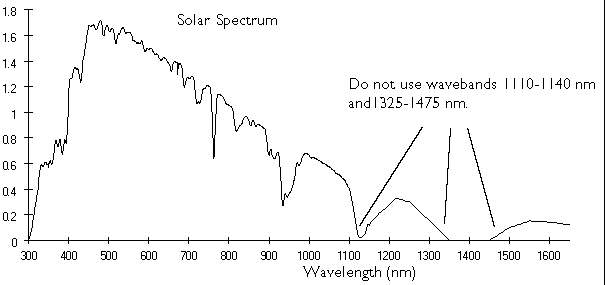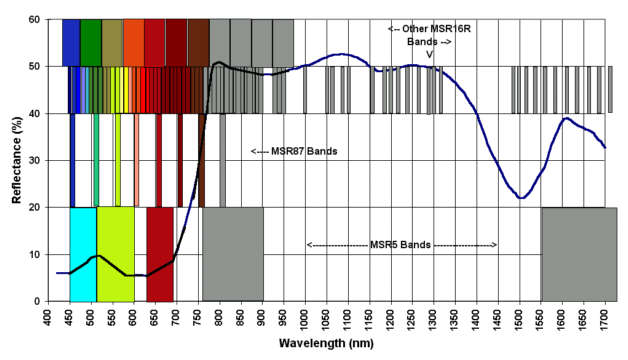 Order
 CWL   BW         Part Number           Description            
---- -----       ------------  --------------------------------
 450  10         MSR16R-450U     450 nm up sensor (10 nm BW)   
                 MSR16R-450D     450 nm down sensor (10 nm BW) 
 450  40         MSR16R-450U2    450 nm up sensor (40 nm BW)   
                 MSR16R-450D2    450 nm down sensor (40 nm BW) 
 460  10  MSR87  MSR16R-460U     460 nm up sensor (10 nm BW)   
                 MSR16R-460D     460 nm down sensor (10 nm BW)
 470  10         MSR16R-470U     470 nm up sensor (10 nm BW)   
                 MSR16R-470D     470 nm down sensor (10 nm BW) 
 480  10         MSR16R-480U     480 nm up sensor (10 nm BW)   
                 MSR16R-480D     480 nm down sensor (10 nm BW) 
 485  70  MSR5   MSR16R-485TMU   485 nm up sensor (70 nm BW)   
                 MSR16R-485TMD   485 nm down sensor (70 nm BW) 
 490  10         MSR16R-490U     490 nm up sensor (10 nm BW)   
                 MSR16R-490D     490 nm down sensor (10 nm BW) 
 500  10         MSR16R-500U     500 nm up sensor (10 nm BW)   
                 MSR16R-500D     500 nm down sensor (10 nm BW) 
 500  40         MSR16R-500U2    500 nm up sensor (40 nm BW)   
                 MSR16R-500D2    500 nm down sensor (40 nm BW) 
 500  70         MSR16R-500U3    500 nm up sensor (70 nm BW)   
                 MSR16R-500D3    500 nm down sensor (70 nm BW) 
 510  10  MSR87  MSR16R-510U     510 nm up sensor (10 nm BW)   
                 MSR16R-510D     510 nm down sensor (10 nm BW) 
 514  10         MSR16R-514U     514 nm up sensor (10.0nm BW)  
                 MSR16R-514D     514 nm down sensor (10.0nm BW)
 520  10         MSR16R-520U     520 nm up sensor (10 nm BW)   
                 MSR16R-520D     520 nm down sensor (10 nm BW) 
 530  10         MSR16R-530U     530 nm up sensor (10 nm BW)   
                 MSR16R-530D     530 nm down sensor (10 nm BW) 
 532  10         MSR16R-532U     532 nm up sensor (10 nm BW)   
                 MSR16R-532D     532 nm down sensor (10 nm BW) 
 540  10         MSR16R-540U     540 nm up sensor (10 nm BW)   
                 MSR16R-540D     540 nm down sensor (10 nm BW) 
 546  10         MSR16R-546U     546 nm up sensor (10 nm BW)   
                 MSR16R-546D     546 nm down sensor (10 nm BW) 
 550  10         MSR16R-550U     550 nm up sensor (10 nm BW)   
                 MSR16R-550D     550 nm down sensor (10 nm BW) 
 550  40         MSR16R-550U2    550 nm up sensor (40 nm BW)   
                 MSR16R-550D2    550 nm down sensor (40 nm BW) 
 550  70         MSR16R-550U3    550 nm up sensor (70 nm BW)   
                 MSR16R-550D3    550 nm down sensor (70 nm BW) 
 560  10  MSR87  MSR16R-560U     560 nm up sensor (10 nm BW)   
                 MSR16R-560D     560 nm down sensor (10 nm BW) 
 560  80  MSR5   MSR16R-560TMU   560 nm up sensor (80 nm BW)   
                 MSR16R-560TMD   560 nm down sensor (80 nm BW) 
 568  10         MSR16R-568U     568 nm up sensor (10 nm BW)   
                 MSR16R-568D     568 nm down sensor (10 nm BW) 
 570  10         MSR16R-570U     570 nm up sensor (10 nm BW)   
                 MSR16R-570D     570 nm down sensor (10 nm BW) 
 577  10         MSR16R-577U     577 nm up sensor (10 nm BW)   
                 MSR16R-577D     577 nm down sensor (10 nm BW) 
 580  10         MSR16R-580U     580 nm up sensor (10 nm BW)   
                 MSR16R-580D     580 nm down sensor (10 nm BW) 
 590  10         MSR16R-590U     590 nm up sensor (10 nm BW)   
                 MSR16R-590D     590 nm down sensor (10 nm BW) 
 600  10         MSR16R-600U     600 nm up sensor (10 nm BW)   
                 MSR16R-600D     600 nm down sensor (10 nm BW) 
 600  40         MSR16R-600U2    600 nm up sensor (40 nm BW)   
                 MSR16R-600D2    600 nm down sensor (40 nm BW) 
 600  65         MSR16R-600U3    600 nm up sensor (65 nm BW)   
                 MSR16R-600D3    600 nm down sensor (65 nm BW) 
 610  10  MSR87  MSR16R-610U     610 nm up sensor (10 nm BW)   
                 MSR16R-610D     610 nm down sensor (10 nm BW) 
 620  10         MSR16R-620U     620 nm up sensor (10 nm BW)   
                 MSR16R-620D     620 nm down sensor (10 nm BW) 
 630  10         MSR16R-630U     630 nm up sensor (10 nm BW)   
                 MSR16R-630D     630 nm down sensor (10 nm BW) 
 633  10         MSR16R-633U     633 nm up sensor (10 nm BW)   
                 MSR16R-633D     633 nm down sensor (10 nm BW) 
 633  40         MSR16R-633U2    633 nm up sensor (40 nm BW)   
                 MSR16R-633D2    633 nm down sensor (40 nm BW) 
 636  10         MSR16R-636U     636 nm up sensor (10 nm BW)   
                 MSR16R-636D     636 nm down sensor (10 nm BW) 
 640  10         MSR16R-640U     640 nm up sensor (10 nm BW)   
                 MSR16R-640D     640 nm down sensor (10 nm BW) 
 647  10         MSR16R-647U     647 nm up sensor (10 nm BW)   
                 MSR16R-647D     647 nm down sensor (10 nm BW) 
 650  10         MSR16R-650U     650 nm up sensor (10 nm BW)   
                 MSR16R-650D     650 nm down sensor (10 nm BW) 
 650  40         MSR16R-650U2    650 nm up sensor (40 nm BW)   
                 MSR16R-650D2    650 nm down sensor (40 nm BW) 
 650  75         MSR16R-650U3    650 nm up sensor (75 nm BW)   
                 MSR16R-650D3    650 nm down sensor (75 nm BW) 
 656  10         MSR16R-656U     656 nm up sensor (10 nm BW)   
                 MSR16R-656D     656 nm down sensor (10 nm BW) 
 660  10  MSR87  MSR16R-660U     660 nm up sensor (10 nm BW)   
                 MSR16R-660D     660 nm down sensor (10 nm BW) 
 660  40         MSR16R-660U2    660 nm up sensor (40 nm BW)   
                 MSR16R-660D2    660 nm down sensor (40 nm BW) 
 660  60  MSR5   MSR16R-660TMU   660 nm up sensor (60 nm BW)   
                 MSR16R-660TMD   660 nm down sensor (60 nm BW) 
 670  10         MSR16R-670U     670 nm up sensor (10 nm BW)   
                 MSR16R-670D     670 nm down sensor (10 nm BW) 
 680  10         MSR16R-680U     680 nm up sensor (10 nm BW)   
                 MSR16R-680D     680 nm down sensor (10 nm BW) 
 690  10         MSR16R-690U     690 nm up sensor (10 nm BW)   
                 MSR16R-690D     690 nm down sensor (10 nm BW) 
 694  10         MSR16R-694U     694 nm up sensor (10 nm BW)   
                 MSR16R-694D     694 nm down sensor (10 nm BW) 
 700  10         MSR16R-700U     700 nm up sensor (10 nm BW)   
                 MSR16R-700D     700 nm down sensor (10 nm BW) 
 700  40         MSR16R-700U2    700 nm up sensor (40 nm BW)   
                 MSR16R-700D2    700 nm down sensor (40 nm BW) 
 700  70         MSR16R-700U3    700 nm up sensor (70 nm BW)   
                 MSR16R-700D3    700 nm down sensor (70 nm BW) 
 710  10  MSR87  MSR16R-710U     710 nm up sensor (10 nm BW)   
                 MSR16R-710D     710 nm down sensor (10 nm BW) 
 720  10         MSR16R-720U     720 nm up sensor (10 nm BW)   
                 MSR16R-720D     720 nm down sensor (10 nm BW) 
 730  10         MSR16R-730U     730 nm up sensor (10 nm BW)   
                 MSR16R-730D     730 nm down sensor (10 nm BW) 
 730  30         MSR16R-730U2    730 nm up sensor (30 nm BW)   
                 MSR16R-730D2    730 nm down sensor (30 nm BW) 
 740  10         MSR16R-740U     740 nm up sensor (10 nm BW)   
                 MSR16R-740D     740 nm down sensor (10 nm BW) 
 750  10         MSR16R-750U     750 nm up sensor (10 nm BW)   
                 MSR16R-750D     750 nm down sensor (10 nm BW) 
 750  40         MSR16R-750U2    750 nm up sensor (40 nm BW)   
                 MSR16R-750D2    750 nm down sensor (40 nm BW) 
 760  10  MSR87  MSR16R-760U     760 nm up sensor (10 nm BW)   
                 MSR16R-760D     760 nm down sensor (10 nm BW) 
 770  10         MSR16R-770U     770 nm up sensor (10 nm BW)   
                 MSR16R-770D     770 nm down sensor (10 nm BW) 
 780  10         MSR16R-780U     780 nm up sensor (10 nm BW)   
                 MSR16R-780D     780 nm down sensor (10 nm BW) 
 790  10         MSR16R-790U     790 nm up sensor (10 nm BW)   
                 MSR16R-790D     790 nm down sensor (10 nm BW) 
 800  10         MSR16R-800U     800 nm up sensor (10 nm BW)   
                 MSR16R-800D     800 nm down sensor (10 nm BW) 
 800  65         MSR16R-800U2    800 nm up sensor (65 nm BW)   
                 MSR16R-800D2    800 nm down sensor (65 nm BW) 
 810  10  MSR87  MSR16R-810U     810 nm up sensor (10 nm BW)   
                 MSR16R-810D     810 nm down sensor (10 nm BW) 
 820  10         MSR16R-820U     820 nm up sensor (10 nm BW)   
                 MSR16R-820D     820 nm down sensor (10 nm BW) 
 830  10         MSR16R-830U     830 nm up sensor (10 nm BW)   
                 MSR16R-830D     830 nm down sensor (10 nm BW) 
 830  40         MSR16R-830U2    830 nm up sensor (40 nm BW)   
                 MSR16R-830D2    830 nm down sensor (40 nm BW) 
 830 140  MSR5   MSR16R-830TMU   830 nm up sensor (140nm BW)   
                 MSR16R-830TMD   830 nm down sensor (140nm BW) 
 840  10         MSR16R-840U     840 nm up sensor (10 nm BW)   
                 MSR16R-840D     840 nm down sensor (10 nm BW) 
 850  10         MSR16R-850U     850 nm up sensor (10 nm BW)   
                 MSR16R-850D     850 nm down sensor (12 nm BW) 
 850  40         MSR16R-850U2    850 nm up sensor (40 nm BW)   
                 MSR16R-850D2    850 nm down sensor (40 nm BW) 
 850  70         MSR16R-850U3    850 nm up sensor (70 nm BW)   
                 MSR16R-850D3    850 nm down sensor (70 nm BW) 
 860  10         MSR16R-860U     860 nm up sensor (10 nm BW)   
                 MSR16R-860D     860 nm down sensor (10 nm BW) 
 870  10         MSR16R-870U     870 nm up sensor (10 nm BW)   
                 MSR16R-870D     870 nm down sensor (10 nm BW) 
 880  10         MSR16R-880U     880 nm up sensor (10 nm BW)   
                 MSR16R-880D     880 nm down sensor (10 nm BW) 
 880  50         MSR16R-880U2    880 nm up sensor (50 nm BW)   
                 MSR16R-880D2    880 nm down sensor (50 nm BW) 
 890  10         MSR16R-890U     890 nm up sensor (10 nm BW)   
                 MSR16R-890D     890 nm down sensor (10 nm BW) 
 900  10         MSR16R-900U     900 nm up sensor (10 nm BW)   
                 MSR16R-900D     900 nm down sensor (10 nm BW) 
 900  60         MSR16R-900U2    900 nm up sensor (60 nm BW)   
                 MSR16R-900D2    900 nm down sensor (60 nm BW) 
 905  10         MSR16R-905U     905 nm up sensor (10 nm BW)   
                 MSR16R-905D     905 nm down sensor (10 nm BW) 
 905  40         MSR16R-905U2    905 nm up sensor (40 nm BW)   
                 MSR16R-905D2    905 nm down sensor (40 nm BW) 
 930  10         MSR16R-930U     930 nm up sensor (10 nm BW)   
                 MSR16R-930D     930 nm down sensor (10 nm BW) 
 935  30         MSR16R-930WU    935 nm up (300nm BW, 780-1080nm) 
                 MSR16R-930WD    935 nm down(300nm BW, 780-1080nm)
 940  10         MSR16R-940U     940 nm up sensor (10 nm BW)      
                 MSR16R-940D     940 nm down sensor (10 nm BW)    
 950  10         MSR16R-950U     950 nm up sensor (10 nm BW)      
                 MSR16R-950D     950 nm down sensor (10 nm BW)    
 970  10         MSR16R-970U     950 nm up sensor (10 nm BW)      
                 MSR16R-970D     950 nm down sensor (10 nm BW)    
 980  10         MSR16R-980U     980 nm up sensor (10 nm BW)      
                 MSR16R-980D     980 nm down sensor (10 nm BW)    
1000  14         MSR16R-1000U   1000 nm up sensor (14 nm BW)      
                 MSR16R-1000D   1000 nm down sensor (14 nm BW)    
1050  14         MSR16R-1050U   1050 nm up sensor (14 nm BW)      
                 MSR16R-1050D   1050 nm down sensor (14 nm BW)    
1064  14         MSR16R-1064U   1064 nm up sensor (14 nm BW)      
                 MSR16R-1064D   1064 nm down sensor (14 nm BW)    
1080  14         MSR16R-1080U   1080 nm up sensor (14 nm BW)      
                 MSR16R-1080D   1080 nm down sensor (14 nm BW)    


Note:  The following bands are priced higher because a more expensive sensor
component is required than for the bands listed above.

                    Order
 CWL   BW         Part Number           Description             
---- ---         ------------   --------------------------------
1100  14         MSR16R-1100U   1100 nm up sensor (14 nm BW)    
                 MSR16R-1100D   1100 nm down sensor (14 nm BW)  
1160  11         MSR16R-1160U   1160 nm up sensor (11 nm BW)    
                 MSR16R-1160D   1160 nm down sensor (11 nm BW)  
1180  11         MSR16R-1180U   1180 nm up sensor (11 nm BW)    
                 MSR16R-1180D   1180 nm down sensor (11 nm BW)  
1200  11         MSR16R-1200U   1200 nm up sensor (11 nm BW)    
                 MSR16R-1200D   1200 nm down sensor (11 nm BW)  
1220  11         MSR16R-1220U   1220 nm up sensor (11 nm BW)    
                 MSR16R-1220D   1220 nm down sensor (11 nm BW)  
1240  11         MSR16R-1240U   1240 nm up sensor (11 nm BW)    
                 MSR16R-1240D   1240 nm down sensor (11 nm BW)  
1260  11         MSR16R-1260U   1260 nm up sensor (11 nm BW)    
                 MSR16R-1260D   1260 nm down sensor (11 nm BW)  
1280  11         MSR16R-1280U   1280 nm up sensor (11 nm BW)    
                 MSR16R-1280D   1280 nm down sensor (12 nm BW)  
1300  12         MSR16R-1300U   1300 nm up sensor (12 nm BW)    
                 MSR16R-1300D   1300 nm down sensor (12 nm BW)  
1320  12         MSR16R-1320U   1320 nm up sensor (12 nm BW)    
                 MSR16R-1320D   1320 nm down sensor (12 nm BW)  
1480  12         MSR16R-1480U   1480 nm up sensor (12 nm BW)    
                 MSR16R-1480D   1480 nm down sensor (12 nm BW)  
1500  14         MSR16R-1500U   1500 nm up sensor (14 nm BW)    
                 MSR16R-1500D   1500 nm down sensor (14 nm BW)  
1520  13         MSR16R-1520U   1520 nm up sensor (13 nm BW)    
                 MSR16R-1520D   1520 nm down sensor (13 nm BW)  
1540  13         MSR16R-1540U   1540 nm up sensor (13 nm BW)    
                 MSR16R-1540D   1540 nm down sensor (13 nm BW)  
1560  13         MSR16R-1560U   1560 nm up sensor (13 nm BW)    
                 MSR16R-1560D   1560 nm down sensor (13 nm BW)  
1580  13         MSR16R-1580U   1580 nm up sensor (13 nm BW)    
                 MSR16R-1580D   1580 nm down sensor (13 nm BW)  
1600  13         MSR16R-1600U   1600 nm up sensor (13 nm BW)    
                 MSR16R-1600D   1600 nm down sensor (13 nm BW)  
1620  13         MSR16R-1620U   1620 nm up sensor (13 nm BW)    
                 MSR16R-1620D   1620 nm down sensor (13 nm BW)  
1640  13         MSR16R-1640U   1640 nm up sensor (13 nm BW)    
                 MSR16R-1640D   1640 nm down sensor (13 nm BW)  
1650 200  MSR5   MSR16R-1650TMU 1650 nm up sensor (200nm BW)    
                 MSR16R-1650TMD 1650 nm down sensor (200nm BW)  
1660  13         MSR16R-1660U   1660 nm up sensor (13 nm BW)    
                 MSR16R-1660D   1660 nm down sensor (13 nm BW)  
1680  14         MSR16R-1680U   1680 nm up sensor (14 nm BW)    
                 MSR16R-1680D   1680 nm down sensor (14 nm BW)  
1700  14         MSR16R-1700U   1700 nm up sensor (14 nm BW)    
                 MSR16R-1700D   1700 nm down sensor (14 nm BW)  

---

CROPSCAN, Inc. Home Page

---
CROPSCAN, Inc.
1932 Viola Heights Lane NE
Rochester, MN 55906 USA
Phone: (507)285-9230
Email: Cropscan@compuserve.com
URL: http://www.cropscan.com


©2017 CROPSCAN, Inc.
all rights reserved